Original Medicare
Who is eligible for Original Medicare?
You can enroll in Original Medicare if you are:
Age 65 and older
Under age 65 with a qualifying disability
To learn more about Original Medicare, visit medicare.gov or call 1-800-MEDICARE.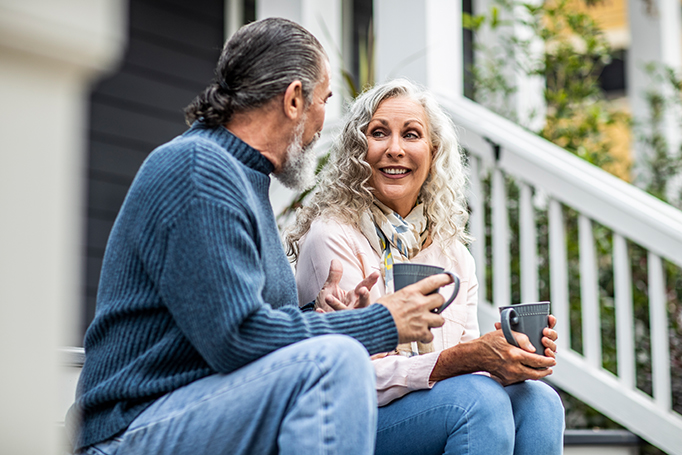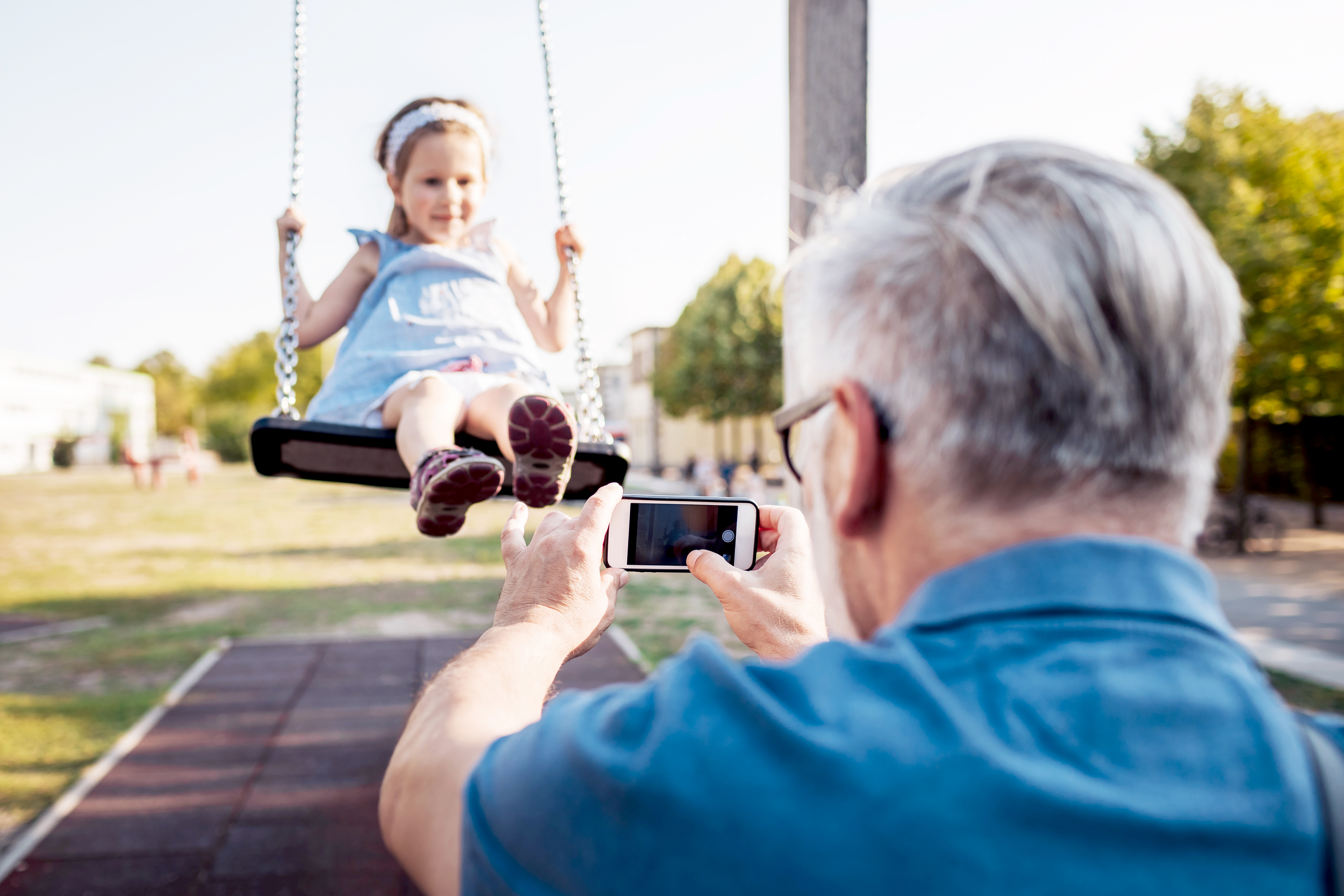 Choosing your optional insurance coverage
As you consider which Medicare insurance coverage options are right for you, take time to think about what you would value most from your plan.
To help you narrow down your options—and find an insurance plan that fits your needs, budget, and lifestyle—start by making a list that includes:
What do the prescription drugs you're taking now or anticipate taking soon cost?
What is your approximate budget for healthcare?
What is the lifestyle you're planning for (including travel)?
Can you continue to use your preferred doctors and hospitals?
Are the benefits you need included in the plan?
What are the plan's copays and deductibles?
Does the plan limit what you pay out-of-pocket each year?
When can I change my optional insurance coverage?
In addition to your initial enrollment period, there are other times when you can enroll or change plans.

Annual Enrollment Period
Begins October 15 and ends December 7 each year.
This is the time available to choose your coverage options for the following calendar year (effective Jan 1-Dec 31).
This is generally the time when you can join or switch your Medicare Advantage, Supplement plans, or Medicare Part D prescription plans.

Open Enrollment Period
Begins January 1 and ends March 31 each year.
If you are already in a Medicare Advantage plan, you can switch to a different Medicare Advantage plan.
You can go back to original Medicare and, if needed, join a Medicare Part D prescription plan.

Special Enrollment Periods
Typically reserved for times when certain events happen in your life.
Each special enrollment period can have different rules - they may include:

Changing where you live.
Losing your current coverage.
Your plan changes its contract.
The four parts of the Medicare program
Get to know what they are, what they cover, and what they cost.
Part A
Original Medicare Part A Hospital insurance Covers:
Inpatient hospital care
Rehabilitation facilities
Nursing facility
Hospice home healthcare
Typically, you won't pay a premium for Original Medicare Part A — it's coverage you've already earned through working ten years or longer. (40 qualifying quarters)
Part B
Original Medicare Part B Medical insurance covers:
Doctors' services
Outpatient hospital care
Ambulance services
Preventive services
and more
You pay a monthly premium for Original Medicare Part B coverage — usually it comes out of your Social Security check, or if not collecting Social Security, you will receive an invoice for the amount due. You will always pay your Original Medicare Part B coverage amount, regardless of the type of alternative insurance coverage you elect.
Part D
Medicare Part D prescription drug plans only cover prescription drugs. These plans are offered by private insurance companies.
You can add a Medicare Part D prescription drug plan to work alongside your Original Medicare Parts A&B coverage.
You typically pay a monthly plan premium to the insurance company, and the cost of your prescriptions will be determined through co‑pays and/or deductibles.
Part C
Also referred to as Medicare Advantage Plans, combine Original Medicare Part A and Original Medicare Part B and often Medicare Part D prescription drug plan coverage into one plan.
Medicare Advantage plans may include additional benefits. These packaged plans are offered by private insurance companies.
Medicare Part C Advantage plan benefits schedule replaces the payout structures of Original Medicare Part A, Original Medicare Part B, and possibly Medicare Part D prescription drugs plans.
Supplement Plans
Technically not a "part" of Medicare, these types of insurance plans fill in the gaps, or supplement Original Medicare Part A and Medicare Part B.
Oftentimes these plans are referred to as med‑sup or medi‑gap plans.
These insurance plans offset the copayments or deductibles encountered during a claim. Used when Original Medicare Parts A and/or B respond to a claim, then the Supplement plan fills in to cover deductibles and copays.
Plan Tips
Once you have Original Medicare Part A and Part B in force, you will then decide if you want more insurance to cover the exposure of copayments, deductibles, and other health issues beyond what is listed under Original Medicare Parts A&B.
If you have nothing but Original Medicare Parts A&B, it is recommended to add a Medicare Part D prescription drug plan.
Additional insurance options beyond Original Medicare split into two main categories: a Medicare Supplement plan or a Medicare Advantage plan. These two categories of insurance programs respond to claims differently. Educate yourself on how they work and how they react when you visit a healthcare provider.
We're here to help with your optional Medicare insurance choices
That's why it's so important to find an insurance plan that's right for you — the sooner, the better. Our licensed representatives are ready to assist you. Don't wait to get the Medicare Advantage or Medicare Supplement options you need.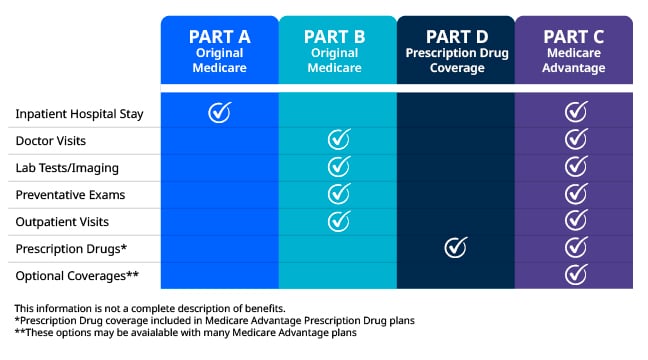 This is a solicitation for insurance.
Broadview Insurance Agency is a licensed and certified representative of Medicare Advantage & Prescription Drug organizations. Each of the organizations they represent has a Medicare contract. Enrollment in any plan depends on contract renewal.
Our licensed agents are available to help you understand how Original Medicare works. Broadview Insurance Agency is not a government entity.
We do not offer every plan available in your area. Currently we represent 3 organizations which offer 20 products in your area. Please contact Medicare.gov, 1-800-MEDICARE, or your local State Health Insurance Program (SHIP) to get information on all of your options.